WOMAD 2016 Festival Lineup Announced -
Thu, 29 Oct 2015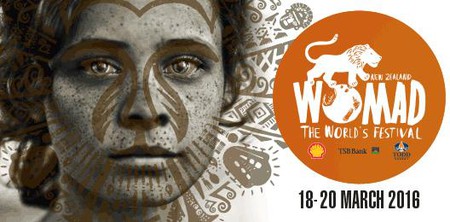 Hot on the heels of the first announcement that Ladysmith Black Mambazo and John Grant will headline WOMAD NZ 2016, the full line-up can now be revealed - and it's one of the festival's most diverse and colourful yet.
Adding to the vibrant lineup this year is ethio-soul Queen, Ester Rada. The Israeli-based singer-songwriter has been turning heads worldwide with her soulful blend of jazz/funk/soul/rnb fusion, opening for Alicia Keys at her Israeli concert in 2013. With her ravishing voice, she is not one to miss on the circuit this year.
Making the list of 'must-sees' are alt-country rockers Calexico. The Arizona outfit is returning to Kiwi shores after wowing audiences here in 2013 with their genre-bending mix of mariachi, spaghetti western and folk.
Country darling Tami Neilson is another major draw card. The 2014 Silver Scroll winner has just released new album DON'T BE AFRAID to critical acclaim and her star is soaring high. The Auckland-based singer songwriter's new mix of rollicking country, blues and soul, offset by heartbreaking balladry, is guaranteed to delight.
Critics' choice DakhaBrakha also joins the line-up. Although still little known in these parts, the four-piece from Ukraine is guaranteed to be a festival favourite. Fusing Ukranian folk with R 'n' B and rap, and often adorned head-to-toe in full traditional garb, this is self-described "ethno chaos" not to be missed.
Carrying the flame of Afrobeat's spiritual inheritance is Seun Kuti & Egypt 80 from Nigeria. Sean Kuti, the youngest son of the late legendary Fela Kuti, stands tall as the charismatic leader of Fela's renowned Afrobeat orchestra, Egypt 80.
WOMAD NZ 2016 also delivers one of the best local line-ups in years, with Bic Runga, Tiny Ruins, Julia Deans, Katchafire and Pass The Gat (Warren Maxwell, Louis Baker, Thomas Oliver) joining the aforementioned Canadian-born, but also proudly Kiwi, Tami Neilson.
WOMAD is not just about the music, foodies are in for an absolute treat with celebrity chef Jax Hamilton returning to host the Nova Energy Taste The World stage. Running over the course of the weekend, Taste The World is a dedicated area where musicians swap their instruments for cooking utensils and cook up a storm while interacting with festival-goers. It's a lot of fun, and becoming increasingly popular year-on-year with the mix of world recipes and Jax's hilarious hosting.
Full Lineup in alphabetical order: 47SOUL (Palestine/Jordan/Syria) / Asia Minor Trio (Greece) / Bic Runga (NZ/Aotearoa) / Calexico (USA) / DakhaBrakha (Ukraine) / Diego El Cigala (Spain) / Edmar Castañeda Trio (Colombia/USA) / Ester Rada (Israel) / Hazmat Modine (USA) / The Jerry Cans (Canada) / John Grant (USA) / Julia Deans (NZ/Aotearoa) / Katchafire (NZ/Aotearoa) / Ladysmith Black Mambazo (South Africa) / Louis Baker (NZ/Aotearoa) / Mahsa & Marjan Vahdat / No Man's Land (NZ/Aotearoa/Greece/Poland) / Orange Blossom (France/Egypt) / Pass The Gat (NZ/Aotearoa) / Savina Yannatou and Primavera en Salonico (Greece) / Seun Kuti & Egypt 80 (Nigeria) / Songhoy Blues (Mali) / Spiro (UK) / Tami Neilson & Band (NZ/Aotearoa) / Te Kapa Haka o Te Whānau ā Apanui (NZ/Aotearoa) / Thomas Oliver (NZ/Aotearoa) / Tiny Ruins (NZ/Aotearoa) / Tulegur (China)