Linn offers festive gift of 24 days of free high-resolution music downloads -
Thu, 28 Nov 2013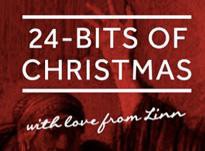 Linn is celebrating the festive season with free Studio Master high-resolution music downloads from the beginning of December until Christmas.
The hi-fi manufacturer, whose Linn Records label won Gramophone's Label of the Year in 2010, will offer a free track from its Studio Master catalogue every day, starting at 10am and available for just 24 hours.
Three free tracks will be available on Sunday, December 1st to start the '24-bits of Christmas' promotion, and we're promised a 'special gift', to be available between Christmas Day and December 27th.
As a taster of what's on offer, 'And the Glory of the Lord' from the Dunedin Consort's Gramophone Award-winning recording of the 1724 Dublin Version of Handel's Messiah, is available from now until Sunday morning.
It can be downloaded from the 24-bits of Christmas website in either 24-bit/88.2 kHz FLAC or ALAC (Apple Lossless).
During the promotion, Linn promises 'something for everyone to enjoy, including the award-winning Sir Charles Mackerras and Scottish Chamber Orchestra, Britain's First Lady of Jazz Claire Martin, electronica legend Jean-Michel Jarre, popular Scottish indie-rock band Admiral Fallow and much, much more.'
All the tracks will be downloadable in the highest quality available on the Linn Records site, which means resolutions of up to 24-bit/192kHz, and for those without the wherewithal to play high-resolution music, they'll also be available in CD quality FLAC and ALAC, and 320kbps MP3.