Cellist Alexander Ivashkin has died -
Fri, 31 Jan 2014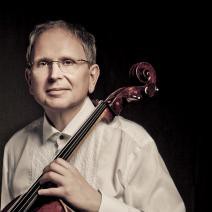 The cellist, conductor, writer and teacher Alexander Ivashkin has died: he was 65. At the time of his death, he was director of classical performance and head of the centre for Russian music at Goldsmiths, University of London, where he was also curator of the Alfred Schnittke Archive.
Ivashkin was born in Blagoveschensk and studied, from the age of five, at the Gnessins Special School of Music. It was at Mstislav Rostropovich's suggestion that he pursued a career as a cellist, and over the course of his professional life he became, alongside Rostropovich and Natalia Gutman, one of the most important Russian champions of, and evangelists for, his instrument. Composers with whom he collaborated included Penderecki, Denisov, Gubaidulina, Kancheli, Shchedrin, Korndorf, Smirnov, Firsova, Raskatov and Alfred Schnittke, of whose Collected Works Critical Edition Ivashkin became editor-in-chief.
As an author Ivashkin wrote over 20 books including studies of the music of Schnittke, Ives, Penderecki and Shostakovich, and works on fellow cellists Sviatoslav Knushevitsky, Daniil Shafran and Rostropovich.
He performed widely and left a substantial discography including the complete works for cello and piano of Rachmaninov, Prokofiev, Shostakovich, Roslavets, Tcherepnin, Gubaidulina, Schnittke and Kancheli. He recorded for Melodiya, Chandos, Naxos, RCA, Ode, ABC Classics, Megadisc, Brilliant Classics, Alma Classics, Toccata Classics and Mobile Fidelity.
In 2012 Ivashkin performed new cello concertos by Raskatov and Kornforf with Valery Gergiev and the Mariinsky Orchestra, and last May he premiered Gabriel Prokofiev's new Cello Concerto alongside with new version of Gabriel's grandfather, Sergei Prokofiev's Cello Concertino in the Great Hall of St Petersburg Philharmonia.